Affordable Heating
Repair Services for Clients
Calgary's 24/7 Heating Solution
Efficient and safe furnace operation is vital for the comfort and well being of Calgary homeowners. Day & Knight Plumbing and Heating installs high-efficiency furnaces from respected manufacturers, and our service, repair, installation and support are second to none.
Annual preventive maintenance is vital for efficient and safe furnace operation. We offer our Calgary customers an Annual Service Plan for plumbing and heating services, including leak detection and preventive maintenance for furnaces, hot water tanks, and home humidification systems. Day & Knight Plumbing & Heating professional furnace services will keep you and your loved ones cozy and warm.
We understand that any furnace problem in your Calgary home commands immediate attention. From practical troubleshooting tasks to replacing electronic ignition systems, gas valves, motors, our furnace technicians identify the problem and provide clear details of your options.
If your furnace is on the fritz, call Day & Knight Plumbing & Heating. Our goal is to provide exceptional customer service and repairs in a timely manner at affordable prices.
Furnaces today offer more advanced features and higher efficiency than ever before. We install only top-quality products from trusted manufacturers. We understand that your new furnace is only as efficient and safe as the installation process.
In fact, furnace installation is a major investment in your home, your comfort, and your safety. You fully rely on the integrity, reputation, and experience of the company you hire and the products they install. Rest assured that Day & Knight Plumbing & Heating is dedicated to your complete 100% satisfaction day and night and year after year.
Have a furnace emergency in your Calgary home? Our experienced furnace technicians respond quickly, day or night. We won't leave you in the cold!
More Calgary homeowners are seeking well-deserved home comfort with whole-home humidification systems. That's not surprising considering the many benefits of humidifiers:
Whole-home humidification systems help maintain more healthful air quality.
Whole-home systems offer the most complete and most practical solutions for alleviating dry indoor air.
Dry air promotes static-electric shocks, damaging sensitive electronics and low-voltage computer components.
Dry air feels cooler than properly humidified air, which may prompt higher heating bills. Whole-home humidification systems offer superior home comfort with lower energy bills.
Since dry air in your home is always trying to reach its saturation point, it will absorb water wherever it's found; from the bodies of you and your children, your pets, your furniture, and even your house plants. What are the results of dry air? Increased allergy symptoms; bouts with colds, flu, and other respiratory infections. Dry, itchy, cracked skin. Cracked wood floorings, cabinets, and furniture. An annoying static shock that can damage electronics.
Preventive Maintenance, Repair, & Installation
Who better to install, service, and maintain your whole-home humidification system than a plumbing and heating company? Whole-home humidification systems cycle and drain water – and a lot of it. We ensure your system is in top-notch shape, clean, efficient, and leak-free.
In the event of a leak, flooding, or other emergencies, you can count on Day & Knight Plumbing & Heating for a quick solution.
Natural gas powers some of the most important appliances in homes across Calgary and surrounding areas. From water heaters and stoves to furnaces, proper natural gas fitting is necessary for home safety and comfort.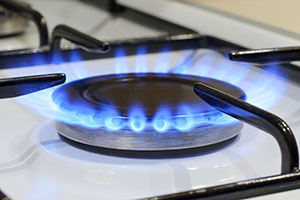 Our service technicians are licensed gas installers with years of experience solving difficult installation problems. Beyond gas lines for your appliances, let us show you how a permanent gas line to your outdoor grill can save you time and frustration when you want to barbecue.
While natural gas is vital to many homes, it can pose a significant health risk when there are problems with the line. We repair all makes of gas lines and unit heaters.
Natural gas is colorless and hard to detect, so the warning signs of damage are subtle. The signs of a gas fitting problem are the smell of sulfur or "rotten eggs", or you may hear a hissing sound. Call our emergency services line, available 24/7, immediately if you notice any of these signs. A natural gas leak is not a problem that can afford to be ignored.
Please call us for any of your gas line needs.